Your time and reputation matter to us
We understand the cost of a mistake or omission, or the hassle of an audit. And the cost of your time. That's why we've designed Tax Preparer to use the full power of your computer to give you complete accurate, professionally-printed returns, ready to mail. And thoroughly detailed supporting schedules, with unlimited itemizing and the level of detail the IRS wants to see.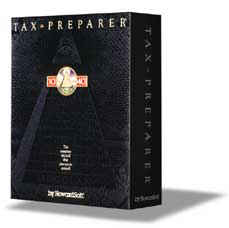 But don't just take our word for it...
"Our extensive testing (and abuse) of Tax Preparer failed to trip it up." (InfoWorld)
"Recommended by several tax professionals." (Wall Street Journal)
Tax Preparer puts you in control of the automation
We offer more than just forms and a calculator. We offer total automation. Tax Preparer creates and completes the forms your return requires, even if you overlook them. But it also handles exceptions, letting you bypass as much automation as you want.
"Tax Preparer: Smooth Automation. The program is about as automated as tax-preparation software can be." (Incider)
Tax Preparer adapts to your habits
Its built-in Road Map lets you prepare a return in the most logical order possible, using Form 1040 as the home base and itemizing to supporting forms and schedules as they come up.
"By the time you're finished with the 1040, every necessary backup form is completed, too." (U.S. News & World Report)
But we don't force it on you. You can prepare returns one form at a time in any order you choose, and Tax Preparer will straighten it out in its calculations. And you can see the results as you go with a fully interactive method, or suspend calculations for faster data entry, or even enter data directly on specific lines for the quickest high-volume data entry.
"Flexibility is the trademark of Tax Preparer." (Infoworld)
Tax Preparer reflects your work accurately
Rather than a sloppy job on a large number of forms, we offer unparalleled completeness on forms you're likely to use. That means that we handle situations that don't fit the mold of the forms...situations covered in IRS instructions or the tax code, but not by the forms themselves. In fact, the automatic calculations often reflect the results of IRS worksheets without your involvement. That's because we've built in meaningful calculations...not just on-screen forms that you must complete.
"I can't think of anything the Howardsoft people have left out of this gem." (Personal Computer)
"The most complete." (A+ Magazine)
"An accurate program that can be trusted." (InfoWorld)
Its intuitive operation saves you time
We have straightforward menus, split screens, and helpful windows, so you can proceed at your own pace. And they're based on more than 2 decades of experience with customers like you. The built-in calculator is as simple as typing the + sign. Moving among forms is as simple as pressing arrow keys or the Itemize Key. And protections include a Quick Save Key to minimize the impact of power failures, and a final recalc to ensure a complete return before printing.
"Certainly they have the customer's interest at heart." (Creative Computing)
And it plans ahead too
We've designed Tax Preparer to stay ahead of the others, because we go beyond the current-year taxes. Tax law changes already scheduled for the future are built in, so you can see the future as well as the past. And our low-cost updates read the data from prior- year returns and any additional data you've entered during the year, then calculate a fileable return.
"It also keeps track of data during the year and helps you plan financial moves that will affect your taxes." (Incider)
"It'll play what-if with this year's results more facilely than any other preparation package." (Softalk)
A manual and service that really help
We give you line by line detail for every IRS form and schedule. We even explain recent tax law changes in a way that makes it clear how your data entry must change. And, if you need more help, we have real people ready to take your call.
"It has the most complete manual in the business." (InfoWorld)
"The manual is one of the few I've encountered that appears to be written by someone whose first language is English rather than Tekknophilia." (PC Magazine)
Your best value in tax software
No other tax program in its class can do what Tax Preparer can do. That's why it earned the tag "most value for the money" in Accounting Today. With annual updates starting at $99 a year, and low-cost options for the bigger tax practice, it's the best thing for the bottom line of any tax practice.
"A remarkably powerful program for a remarkably low price." (Personal Computing)
"It exudes high quality and careful programming " (Infoworld)
Options and Add-ons is next.