A knowledgeable partner.
Real Estate Analyzer by HowardSoft can be your knowledgeable partner by providing computer-automated investment analysis, realistically taking into account the effect of taxes, inflation, and the time value of money. From homes and duplexes to commercial complexes, Real Estate Analyzer scientifically weighs the pros and cons like no other software can.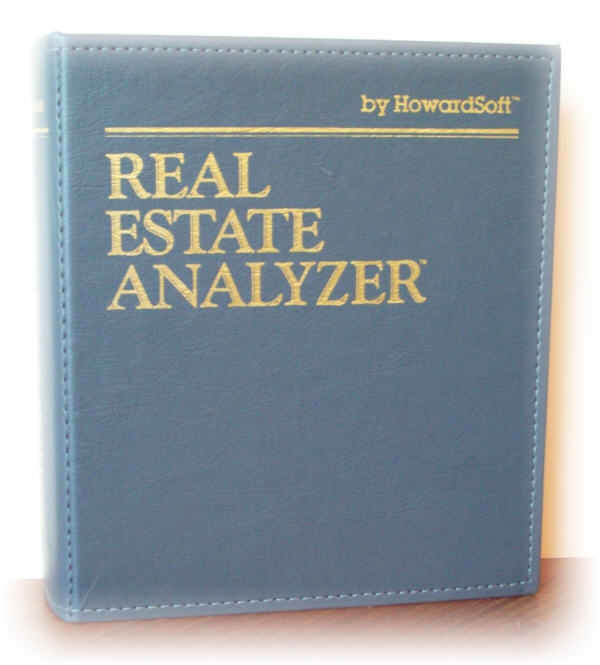 The Best Stands Out
Automatic Analysis.
Whether you're a newcomer to real estate, a seasoned investor, or a commercial broker, Real Estate Analyzer is the tool for you. You can find out in seconds how long to hold your investment property, or whether or not a new property suits your investment goals. Real Estate Analyzer provides you with a complete financial analysis of your investment ... and it's potential return. It highlights tax shelter benefits and projects later tax recapture. It lets you develop "what if" comparisons on as many properties as you care to examine. It compares apples to apples, or triplexes to complexes, with an incredible range of alternative scenarios that are as creative or conventional as your investment strategy demands.
It's Easy to Learn and Easy to Use.
You can immediately start up Real Estate Analyzer and get to work. Clear prompts, logical structure, and rugged error tolerance mean you don't have to be either a computer whiz or a financial whiz to be up and running the first day.
Our Manual is as Good as Our Software.
The reviewers will tell you our manual is one of the clearest, best-organized, easiest to use handbooks around. By itself, it's an education in real estate investment analysis. In conjunction with our software it's invaluable.
Friendly Customer Service, Free.
Special problems? We're always ready to answer your questions on operating the software, and to help when unusual situations arise. Just give us a call.